Brian Diang'a introduces gaming to African youth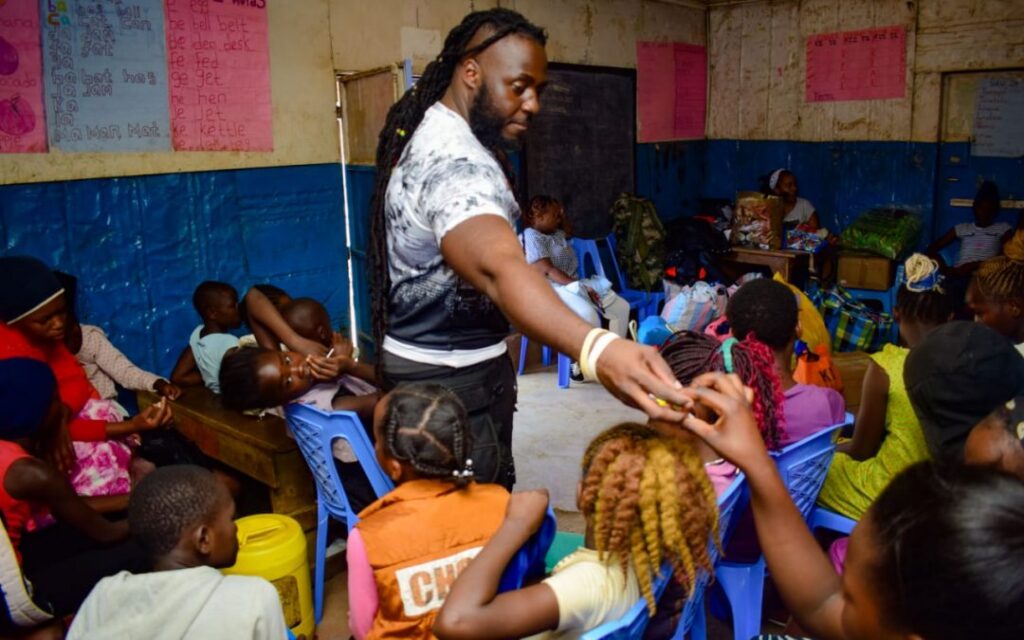 With the gaming industry being the biggest it's ever been, Africa seems yet to catch up with the rest of the world. Brian Diang'a, one of Kenya's biggest esports gamers is looking to change that.
Throughout his childhood, gaming was an escape for Brian 'The Beast' Diang'a. Growing up in Kibera, Africa's largest slum, his life was marred by poverty, with crime around every corner.
Yet, whether it was playing duck hunt on his old Nintendo, or going down to his local video game parlour, he was never far from a screen. Something that, may have caused family quarrels, but ultimately saved Brian's life.
The eSports gamer said: "I used to be a kid who loved watching movies. But, one year my uncle came back with a Nintendo. This old Nintendo was called the Nintendo Zapper and it had a gun and you could shoot ducks on the screen."
"So, I started playing that content and that was when I realised, oh my god, now from watching movies, I can actually control things on the screen, and I just got pulled away and video games became my thing ever since."
"I could have gone to play football and play those games kids do, but you'd find me playing video games in front of screens."
"I would go to video game parlours all the time, and I got so good at gaming that other kids would even pay for me to play for them, to complete levels they couldn't pass."
It wasn't until 2013 that Diang'a realised that he could do the thing he loved professionally. In his youth, he was watching Rad the Brad, an American YouTuber, and saw that he did a Mortal Kombat tournament. One where the winner would get $1000.
This amount of money would be life-changing for someone in Diang'as position, so he started training.
"I started looking at how they were pressing the controller because I realised, I was not doing moves as crisp or clear as the way the professionals were."
"Then I was looking at how they were holding the control pressing the buttons and all that. I think that's where I took off with being a pro gamer."
It was from this that the Kenyan national started to compete and go around Africa to different tournaments and competitions but recently, The Beast has taken a step back from the competitive side of things, to focus on his youth mentorship programme alongside Safaricom.
This programme is designed to not only teach African youth about the benefits of gaming but also teach them life lessons for success along the way.
"When I went around the country, I realised there was a big gap, a lot of people, a lot of young adults and even older adults and even parents didn't understand the benefits of gaming or even the negative side of it."
"I started Safaricom as I figured this would be one of the quickest ways possible to close that gap is to educate people about the benefits like just to educate people about gaming in general."
"We target young kids from slum areas for the mentorship, because I myself am a kid from these slum areas and being from a slum there is so little opportunity that even the smallest opportunity you get can be a life-changer for you. Because that's all you have, it's all you can get."
The life lessons taught at these mentorships are just as important as the gaming for Diang'a, the kids and young adults are educated on how to avoid getting into crime and avoiding drugs.
The mentorship is also done for young girls, who alongside the gaming are taught about menstrual and sexual health and are provided with sanitary towel donations and clothes to help them during puberty
"I try to educate the kids not just about gaming but also about life. I use my example in how I survived, how I grew up in a place filled with crime and that didn't end up being a criminal myself. I give up my life story with the hope of teaching them something. It's not just about gaming."
"Before I became a gamer most of my friends, were killed off because they went into crime. They just started doing shady stuff and they never made it to become full adults."
"I'm left with like two or three friends from my childhood. That is a sad story, and one I don't want any other kid to go through."
"We target slum kids mostly because they're the most vulnerable. They're at the stage where peer pressure is there, everything is there. I just think that gaming is such a great tool to use to teach."
"I go to one slum at a time. Talk to the kids give them a chance to play and then do some classroom stuff. I also will organise a tournament so the winner can get money for lunch or for books, just to get them, you know, excited about gaming."
According to The Beast, eSports and gaming, in general, is very stigmatised in Africa, with many still perceiving the entertainment platform as child's play.
Many don't appreciate the mental capacity and stress needed to learn new patterns, new moves, and also just how it can be a breeding ground for innovation and creativity.
Diang'a also sees, like in his own story, how much gaming can be a healthy escape from some of the adverse aspects of someone's life.
"When you're gaming, you're preoccupied with just the game itself, you don't have time for the other things."
"They engage you, one problem after other, problem solving, and at the same time it's fun, it's like acting and directing a movie at the same time."
As a part of his mentorship sessions, The Beast also pushes the kids and young adults to think about the large scope for success within the gaming industry, even if they aren't competitive class gamers themselves.
"I try to tell people, there's a lot of opportunities in gaming. It's not just gaming, not everyone can game to the level of an esports athlete. But there are so many other aspects of gaming."
"There is the design part of it, the journalism in gaming, there's the art behind the games, there's fashion in it, there's even setting up the spaces for the tournaments. There's a lot to do within gaming, and many different examples."
"I always say that if you just put your time in properly, you can find yourself winning out there, and also find something within the circle of gaming that can really help your life."
Source: The Periphery