Hyper Game Jam 2023: Get Creative and Win Cash Prizes with HypeHype!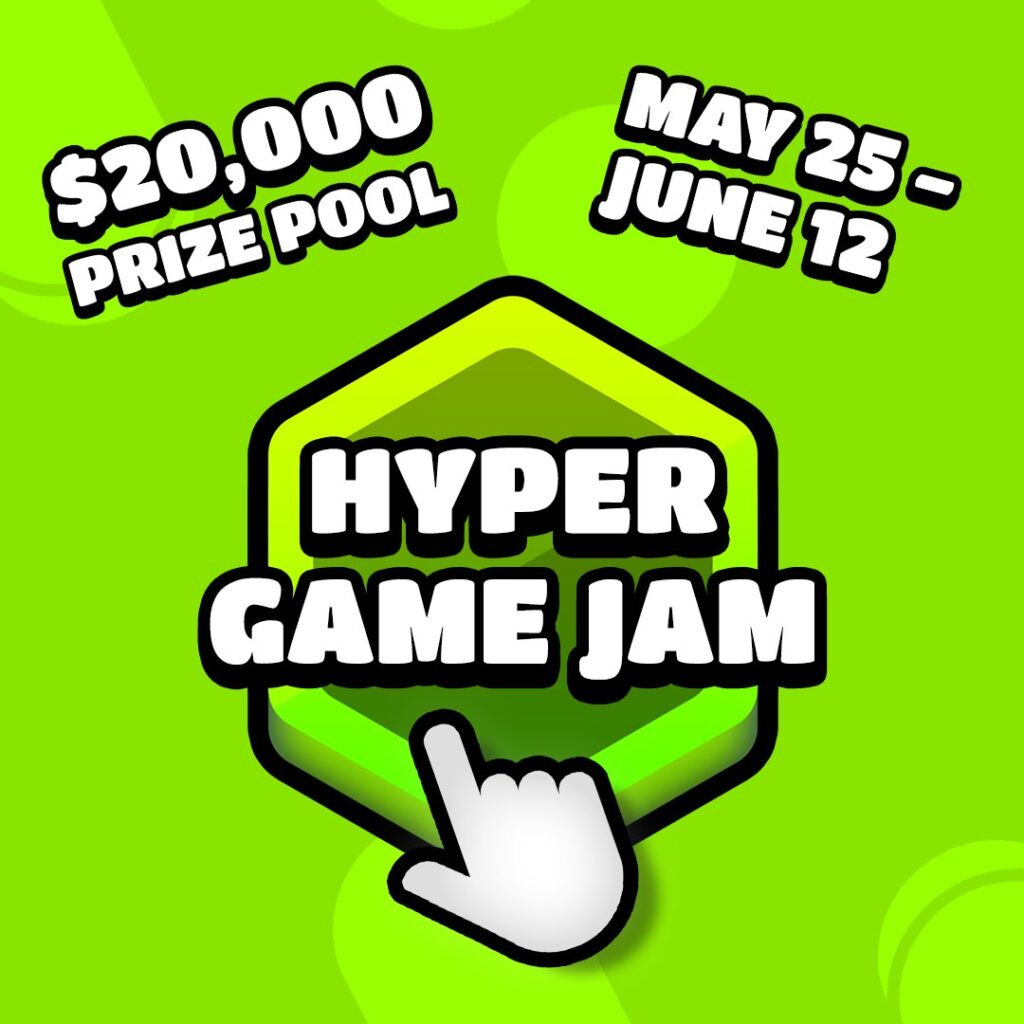 Calling all game developers, artists, designers, content creators, and gamers! Hyper Game Jam 2023 has arrived. From May 25th to June 12th, join this exciting event hosted by HypeHype and showcase your creativity by creating fun, simple 1-touch games. With a prize pool totalling $20,000, there's never been a better time to show off your skills and win big!
The theme of this year's game jam revolves around 1-touch gameplay. Think of games where players tap the screen at the right time to interact. The focus is on creating gameplay that is both simple and enjoyable, providing a fun experience for players. The challenge lies in innovating with satisfying, bite-sized mechanics that are easy to learn but potentially difficult to master. Additionally, games must incorporate a leaderboard to add a touch of friendly competition and enhance the fun factor.
Participants have the entire duration of the event, from May 25th to June 12th, to create and publish their games. And here's the best part: you don't need any coding skills! HypeHype, the free game development platform, allows you to build games using only your mobile phone, tablet, desktop, or web browser. It's never been easier to bring your game ideas to life.
Now let's talk about the prizes. The Hyper Game Jam offers two categories to cater to both experienced and new HypeHype game creators. In the Experienced HypeHype Creators category, the first-place winner will receive $5,000, with second place taking home $3,000 and third place winning $2,000. For the New HypeHype Creators category, the first-place prize is $3,000, second place receives $2,000, and third place earns $1,000. Additionally, there will be eight honourable mentions, each receiving $500.
Even if you don't win a prize, your participation won't go unnoticed. Every participant will receive a special badge that can be displayed on their HypeHype profile. To unlock it, simply complete the Hyper Game Jam in-app tutorial.
Of course, every competition has its rules, and Hyper Game Jam is no exception. The key requirements include ensuring that your game is playable with a 1-touch gameplay mechanic, has a leaderboard, and includes the hashtag #HyperGameJam in the game description. Remember, your game must be published by June 12th to be eligible for judging.
Feel free to submit multiple game entries, but keep in mind that only one prize can be won per creator, with the best-performing game being considered if multiple entries qualify. Winners will be decided by the community based on engagement metrics such as likes, comments, shares, plays, and playtime. These metrics will be calculated from the publication date until June 19th to determine the winners.
It's important to note that both the games and the behaviour of creators must adhere to HypeHype's Community Guidelines. Additionally, while remixes of games are allowed, they must be unique to be considered favourably by HypeHype's algorithm.
For those unfamiliar with HypeHype, it's an exciting online destination for game makers, indie developers, and players. You can create and play games for free on any device, be it your phone, tablet, desktop, or web browser. The mobile-first editor tools provided by HypeHype require no coding, allowing you to craft your games using high-quality 3D assets, characters, sounds, and add-ons. What's more, with the remixing feature, you can start from scratch or build upon existing games, making the game creation process quicker and more accessible than ever before.
Once you've finished creating your masterpiece, simply hit publish, and your game will be instantly playable on all devices. Creators will receive valuable player data and feedback within days. Whether it's on the HypeHype app, other social media apps, or any device with a web browser, players can enjoy your game instantly.
Although HypeHype is currently in early access, it offers all the essential features and tools for making modern games. By streamlining the game creation process, it transforms months of complex PC development into just hours of visual editing on the go.
Don't miss out on this incredible opportunity to showcase your talent, win cash prizes, and connect with a vibrant community of game creators. Join the Hyper Game Jam 2023 today and let your creativity run wild with HypeHype!