Press Release: NAG BYOC LAN at rAge is Live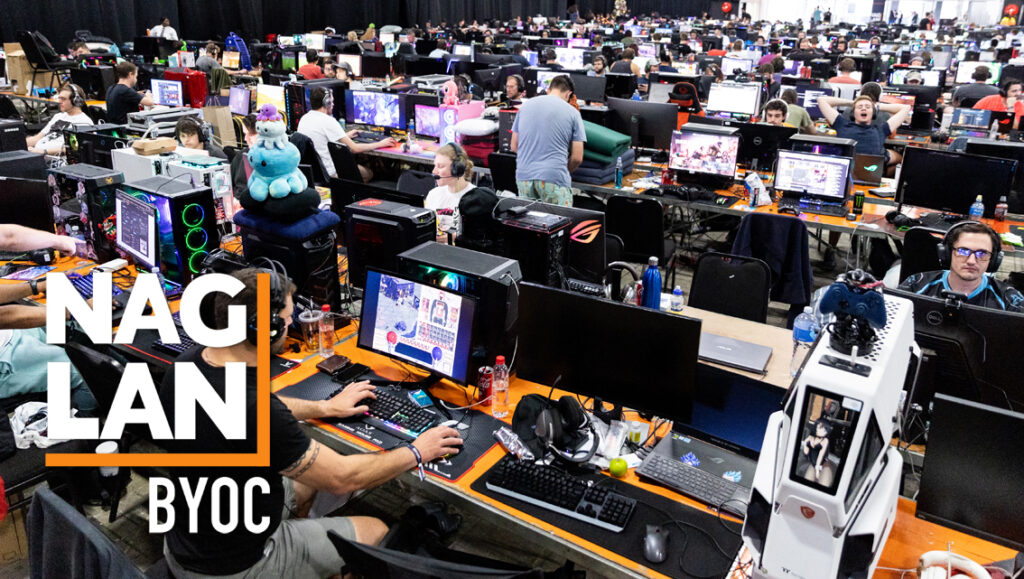 For over two decades, the NAG BYOC LAN has been South Africa's largest three-day celebration of gaming, attracting thousands of passionate gamers from across the country. This year will be no different, with rAge organisers promising an unforgettable experience at the 2023 edition.
"Last year's rAge event was a great success, with thousands of happy visitors. Our observations during the event, combined with the invaluable feedback from the backbone of rAge—our LANers—have resulted in what we believe will be another memorable LAN experience this year, and tickets are now available to purchase from Howler," says Michael James, Project Director of rAge.
What's New This Year?
Reduced Ticket Prices: Thanks to the support of our sponsors, ticket prices have been reduced for this year and will remain so for as long as possible.
Larger Space: The BYOC LAN will move to its own hall this year while still being within the expo.
LAN-Only Restaurant: A LAN-only restaurant with a diverse menu and separate pricing will be available in response to last year's feedback. Iconic favourites like the mini doughnut stand will remain, alongside a range of food options, including a healthy selection, and additions such as two-litre cool drinks for those super long gaming sessions.
Enhanced Security: Comprehensive and consistent security measures will be implemented, ensuring a safe and enjoyable experience for all participants, day and night.
More Competitions: Get ready for more adrenaline-pumping competitions and fun tournaments in the LAN area, offering gamers even more opportunities to showcase their skills and win prizes.
Mitigating Loadshedding: rAge is actively working with the venue to minimise load-shedding disruptions during the event.
Personalised T-Shirt: Clear Access has designed personalised gaming shirts that can be ordered along with your LAN ticket purchase.
Daytime and Nighttime Ambience: The LAN promises a vibrant and energetic ambience suitable for both daytime and nighttime activities, keeping gamers immersed in their passion around the clock.
BYOC Ticket Includes:
A chair
A shared table (between two people)
Two dedicated plug outlets to power your PC, console, and monitor
High-speed Internet connection
Network infrastructure, including one network cable
Free access to rAge Expo for all three days
Please note: Gamers will need to bring their gaming rig (PC, console, or laptop), monitor, keyboard or gamepad, mouse, headphones, and games.
For more detailed information on the LAN, please read the FAQ, which can be found here.
Ticket Information:
BYOC LAN General Pass (R950 per person): Standard three-day LAN ticket, with access from 06h00 on Friday, December 8, 2023, to 15h00 on Sunday, December 10, 2023.
BYOC LAN Super Pass (R1,250 per person): Extended four-day LAN ticket, with access from 18h00 on Thursday, December 7, 2023, to 15h00 on Sunday, December 10, 2023.
Tickets can be purchased online now via Howler.
"We welcome gamers' direct feedback through our Discord server or via email to continuously improve the event each year. The BYOC LAN is a pure gamer passion project at rAge, and we love to see everyone there over the course of the weekend. It's an essential part of the rAge DNA, and we're always looking to enhance it so our gamers can enjoy it to the fullest. Without them, there is no LAN." concludes James.
More good news is that Clear Access, a leading provider of high-speed connectivity solutions, has renewed its sponsorship and commitment to enhance the gaming experience at the LAN. Clear Access will deploy its renowned Quark product, delivering unprecedented speed and low latency for an extraordinary gaming experience.
The company's powerful 40 GB/s Neutrino solution will be strategically deployed in Gallagher Estate, further enhancing connectivity for all attendees. Equipped with top-tier connectivity, gamers can enjoy uninterrupted and lag-free gaming sessions, setting the stage for epic battles, intense competitions, and unforgettable moments.
"We are thrilled and honoured to have been selected as the official supplier of the LAN once again," says Rob Nelson, Head of Marketing at Clear Access. "This partnership allows us to directly engage with a crucial customer base—gamers—and showcase the true capabilities of our innovative Quark product. We are confident that our advanced technology will provide gamers with the ultimate gaming experience at rAge."
Nutanix is once again rolling up their sleeves by deploying much-needed server horsepower and critical systems for the LAN.
"Nutanix Sub-Saharan Africa is proud to be supporting rAge and will again be providing a highly available, high-performance private cloud platform based on [the] Nutanix NCI solution to host the servers and backend systems for the NAG BYOC LAN at rAge," says Phillip de Waal, System Engineering Manager, Sub-Saharan Africa.