rAge Expo Offers South Africans a Chance to Win a R23,000 Gaming PC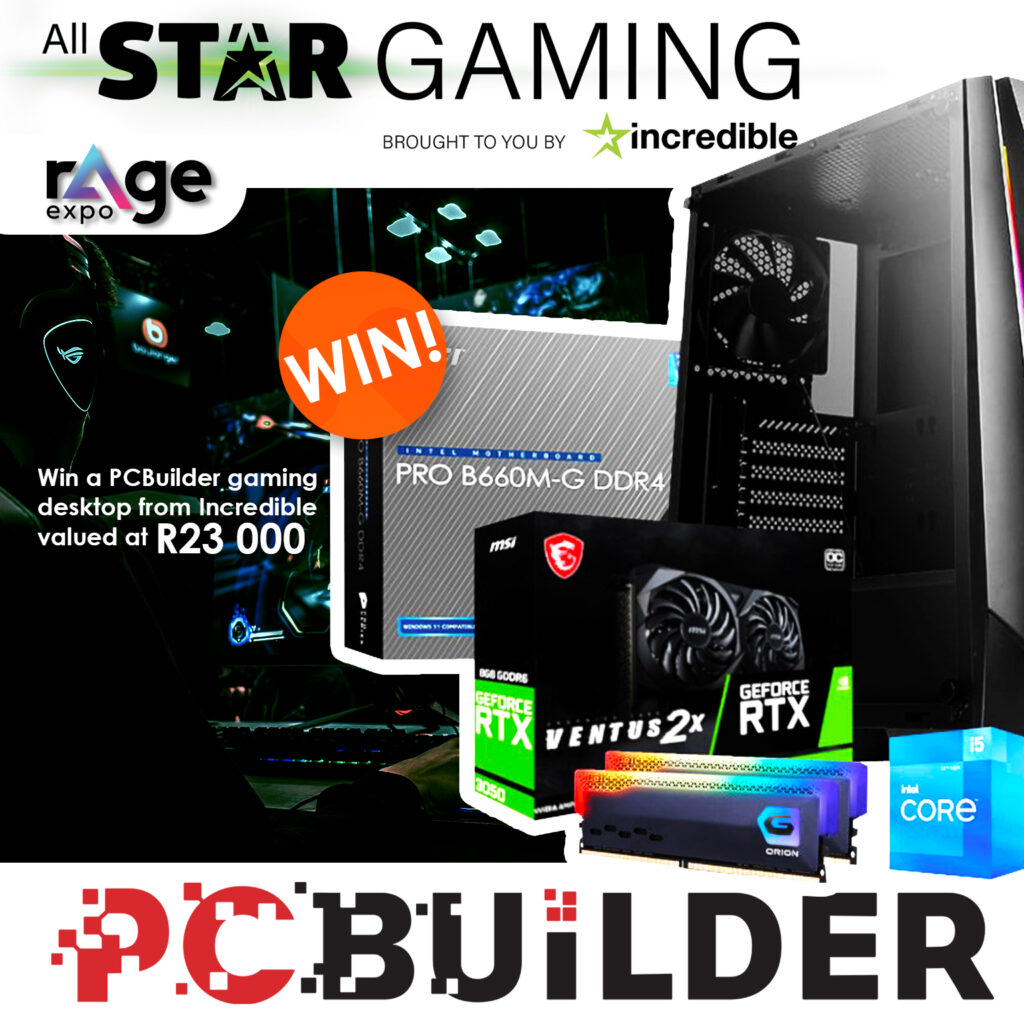 Calling all gamers, tech enthusiasts, and geeks alike! The highly anticipated annual African video game and tech expo, rAge Expo, is back with a bang in Johannesburg. With an exciting lineup of events and activities, this year's expo promises to be bigger and better than ever before. But that's not all! The organisers have a thrilling surprise in store for ticket holders of both the NAG BYOC LAN and the rAge Expo – a chance to win a mind-blowing R23,000 gaming PC from Incredible Connection and PCBuilder. Here's how you can join the race to score this ultimate gaming rig!
rAge Expo: The Mecca for Tech and Gaming Lovers
With a track record of delivering awe-inspiring experiences year after year, the rAge Expo has rightfully earned its title as the premier destination for all things geek culture. From cutting-edge computer hardware to the latest console and mobile gaming trends, from electrifying esports competitions to digital lifestyle entertainment, rAge Expo is a must-attend event for anyone passionate about the world of technology and gaming.
NAG BYOC LAN: Where Virtual Becomes Reality
For those who crave the ultimate gaming experience, the NAG BYOC LAN stands tall as South Africa's largest three-day, twenty-four-hour celebration of gaming. At this unique event, the lines between the virtual and real world blur as hundreds of avid gamers come together to revel in a shared passion. For many, it's an opportunity to meet long-time online friends in person, forging bonds and memories that will last a lifetime.
Win a R23,000 Gaming PC – An Unmissable Opportunity
Now, here's the deal that could make your gaming dreams come true! If you're a ticket holder for either the NAG BYOC LAN or the rAge Expo, you stand a chance to win an impressive R23,000 gaming PC. This gaming rig, powered by Incredible Connection and PCBuilder, is a gaming enthusiast's wildest fantasy brought to life. Equipped with top-of-the-line components and cutting-edge technology, this beast of a machine will take your gaming experience to a whole new level.
How to Enter the Draw
Getting your shot at winning this gaming marvel is easy. All you need to do is secure either a NAG BYOC LAN or a rAge Expo ticket on Howler by August 31, 2023 Prices range from R180 for a Day Pass to R390 for a Weekend Pass for the 2023 rAge Expo, while a NAG BYOC LAN ticket will cost you R950 per person for a General Pass and R1,250 per person for a Super Pass. By doing so, you automatically get entered into the draw. It's that simple! So, whether you're eager to immerse yourself in the NAG BYOC LAN atmosphere or explore the wonders of rAge Expo, you're in for a thrilling chance to take home the gaming setup of your dreams.
Mark Your Calendar: Draw Date
The tension will be palpable as gamers eagerly await the draw to determine the lucky winner of the R23,000 gaming PC. The draw will take place on September 1, 2023, and the winner will be promptly notified via email. Could it be you? There's only one way to find out – get your tickets now!
Exclusively for South Africans
As much as the organisers would love to share this opportunity with gamers from around the world, this offer is exclusively open to South Africans. So, if you're in the rainbow nation, gear up and get ready to seize this golden opportunity!