ESI Hall of Fame Awards 2023 Set for World Esports Summit in Busan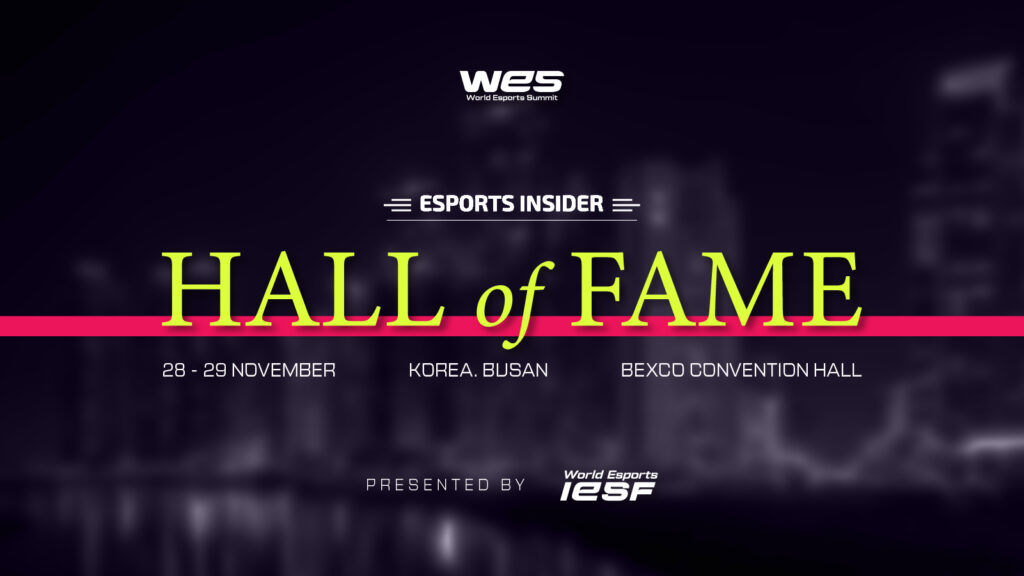 Esports Insider (ESI) has unveiled the 2023 edition of the ESI Hall of Fame Awards, set to unfold amidst the global gaming hub of Busan, South Korea. In collaboration with Headline Partner the International Esports Federation (IESF), this prestigious event is scheduled for the evening of November 28 and is an integral part of the 8th edition of the World Esports Summit.
This year's summit promises to be even bigger and better than before, following last year's grand success that witnessed over 150 attendees and 40 renowned speakers hailing from esports, sports, global brands, government officials, and key industry leaders, all converging for an enriching three-day experience.
The ESI Hall of Fame Awards hold a unique place in the esports industry, as the awards aim to acknowledge and celebrate individuals from across the globe who have left an indelible mark on the industry. Since its inception in 2018, this prestigious event has traversed the globe, previously gracing iconic cities such as London and Los Angeles. Now, Busan, South Korea, joins this illustrious list.
This edition of the ESI Hall of Fame Awards makes history by being hosted in the Asia-Pacific (APAC) region for the first time. With Esports Insider expanding its conferences to Singapore in 2022, this move to Busan represents a significant milestone in the industry's journey.
The 2023 Hall of Fame ceremony will showcase four awards, each designed to honour a distinct facet of the esports world:
Hall of Famer: Recognising an individual for their outstanding contributions and exceptional growth within the esports industry.
Rising Industry Star: Celebrating the impact and achievements of a younger, promising individual who is already making waves in the industry.
Community Champion: Focusing on individuals who leverage esports to make a positive social impact within local communities and the esports grassroots scene.
Youth Champion: Awarded to an individual who inspires the next generation by contributing to esports programmes, both within and outside educational institutions.
These esteemed awards' recipients are chosen through a meticulous process where ESI selects from nominations put forward by industry professionals. The selections are based on the nominee's substantial contributions to the development of the esports industry and the transformative impact of their work in the sector.
The ESI Hall of Fame is adorned with illustrious inductees, including past 'Hall of Famer' award winners such as Jason "1" Lake (Founder & CEO of Complexity Gaming), Heather "sapphiRe" Garozzo (ex-Counter-Strike Observer and Founder of Raidiant), Mike Sepso (CSO at ESL FACEIT Group), and Sue "Smix" Lee (VP Talent Management at RTS).
For those looking to be part of this momentous occasion, sponsorship opportunities are available, allowing your brand to support individual awards or the entire ceremony. For more details, reach out to [email protected] to explore how you can be part of this grand celebration.
The World Esports Summit offers free tickets available through the event website. For a more comprehensive understanding of the ESI Hall of Fame awards, including information about previous inductees, content from past editions, and criteria for the awards, head over to the ESI Hall of Fame.