NESA Reveals Mobile Legends: Bang Bang Team for World Esports Championships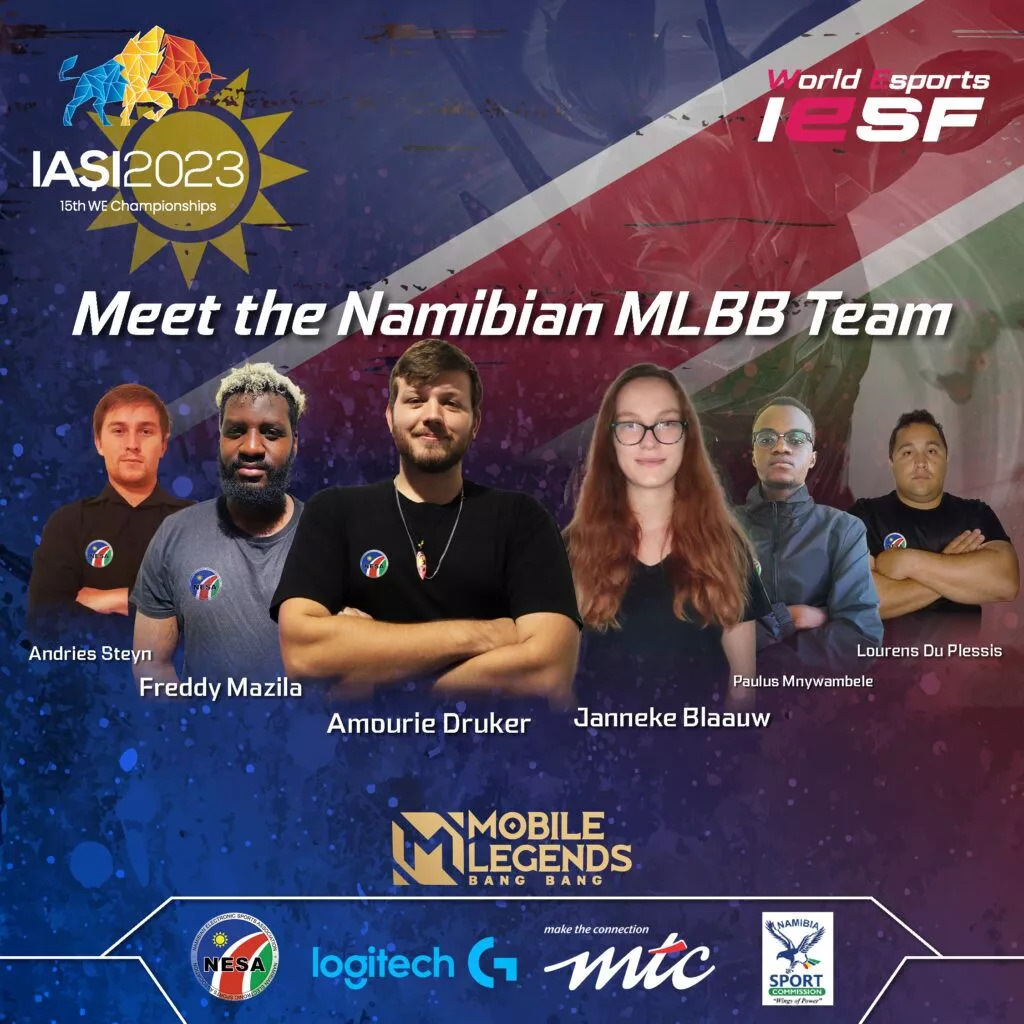 The Namibian Electronic Sports Association (NESA) has recently announced their Mobile Legends: Bang Bang (ML:BB) team, which will proudly represent Namibia in the upcoming International Esports Federation (IESF) African Regional Qualifiers, which kick off from June 5–20. The team's ultimate goal is to secure a spot in the highly anticipated 15th World Esports Championships, scheduled to be held in Iași, Romania. This announcement has sparked excitement among esports enthusiasts and fans across Namibia, who eagerly await the team's journey towards global recognition.
NESA's ML:BB team comprises a group of talented and dedicated individuals who have proven their skills in the local esports scene, including Andries Steyn, Freddy Mazila, Amourie Druker, Janneke Blaauw, Paulus Mnywambele and Lourens Du Plessis. By participating in the African Regional Qualifiers, they aim to demonstrate their prowess and bring honour to their nation.
The 15th World Esports Championships are a prestigious event that attracts top esports athletes from around the globe. This year's tournament promises to be an exhilarating showcase of talent, strategy, and teamwork, and NESA's ML:BB team is determined to make their presence known.
NESA, the leading esports organisation in Namibia, has expressed confidence in their ML:BB team's ability to excel on the international stage. Through their official announcement, NESA urged fans and supporters to stay tuned for updates and extend their unwavering support to the Namibian team. "We can't wait to see them showcase their skills and achieve victories for our country. Stay tuned for updates and support the Namibian team as they embark on this exciting journey!"
NESA's commitment to promoting esports in Namibia goes beyond just fielding a competitive team. The organisation has been actively involved in the development of the local esports community, organising tournaments and offering educational initiatives to nurture emerging talent. By participating in the 15th World Esports Championships, the ML:BB team will further raise the profile of Namibian esports, encouraging more individuals to pursue their dreams in the industry.
As the countdown to the IESF African Regional Qualifiers begins, the Namibian team is set to embark on an exciting journey filled with challenges and opportunities. Fans and esports enthusiasts across the country are eagerly anticipating the team's performance in the qualifiers, hoping to witness their remarkable achievements on the road to the 15th World Esports Championships.