#PSVR2: Why it may be better than the Quest 2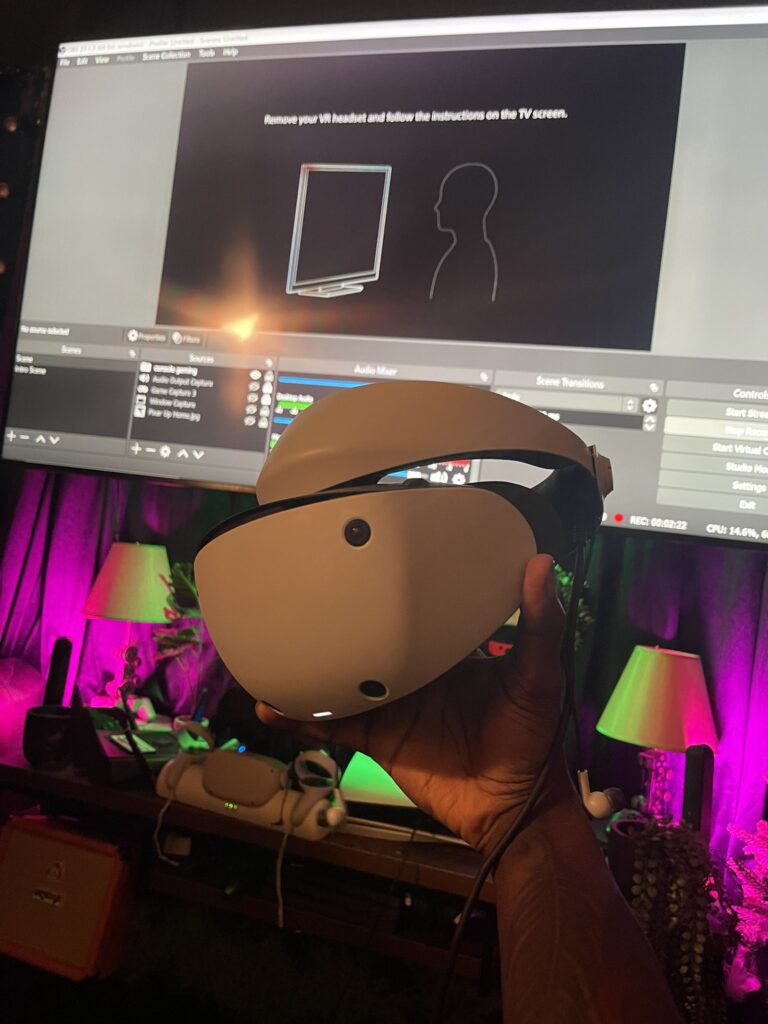 The PSVR(PlayStation Virtual Reality) 2 is here and gamers have never been more excited to jump back into a virtual world of reality. Sure, they have had their fair share of PC VR headsets and two generations of Meta's standalone Quest, but it's been almost seven years since gamers got access to a console VR headset.
Hakeem Lawanson, a South African gamer shared his review on twitter and on his blog, he explained that PlayStation sure did take its time to bring this new virtual technology , and as someone who's been using the Quest since way back when it still said 'Oculus' on the box, he noticed quite a few differences that, in his opinion, make the PSVR 2 far superior to its main competition.
Comfort
"Let's start with comfort. The PSVR 2 is by far the best fitting VR headset I've ever used. The halo design makes it easy to adjust and the actual visor portion feels extremely lightweight. One of the Quest's biggest advantages is also a downside: it's all-in-one, but it's also all on your head – and the elastic straps do little to help it stay there,"
"I even avoided wearing glasses with the Quest 2 because I already had a problem with light leakage because there's nothing to really help block out environmental light. With the PSVR 2, however, it has a built-in rubberized housing fixed to the visor, which blocks out almost all environmental lighting."
"What's more, the visor can be adjusted separately to make room for glasses, should the wearer, like me, do so. This is the first time I've been able to play VR with complete clarity and that's huge." he added.
PSVR 2 takes advantage of the PS5 hardware, so games look noticeably better than anything on the Quest 2
Display
"Good-looking games look stunning on the PSVR 2, thanks to its 2,000 x 2,040-pixels HDR OLED display. If you're looking for vivid images that really pop and showcase the graphical fidelity of the games you're playing, this is it! The PSVR 2 takes full advantage of the PS5 hardware too, so the games look noticeably better than anything on the Quest 2, with its 1,832 x 1920-pixels LCD display. Of course, you can play higher-end PC games if you tether the Quest 2 to your gaming PC, but you won't get a crisp picture because its LCD display is simply no match for PSVR 2's OLED screens."
Immersion
PSVR 2's rumble feature really adds to the overall immersion while playing and is very similar to what PlayStation has been doing for years with its controllers. And with PSVR 2's eye tracking, visuals are optimized in your direct line of sight thanks to its foveated rendering technology, which is a fancy way of saying it reduces pixel count in your peripheral vision. He noticed it while playing Horizon Call of the Mountain and navigating the in-game using his eye movements and it's a nice touch. 
"Additionally, I used PlayStation's Pulse 3D headset to really push the immersion, because the audio is isolated. Quest 2 has 3D audio but for me, audio immersion was ruined since you can still hear outside sound. You can of course plug in your own set of headphones, but the PSVR 2 comes paired with a set of earbuds, which is quite useful."
---
A lot of skeptics might hold off on the PSVR 2 because of its current library of games, but the truth is it's only just getting started. Right now the majority of games coming out for PSVR 2 are ports of Quest 2 games, but the few you cannot get on the Quest 2 are well worth the investment if you're interested in VR. Resident Evil Village is an amazing VR experience, and one that's only on PSVR 2 right now. And some of the games you might've already played on Quest 2 are further enhanced thanks toPSVR 2's OLED display and PS5's hardware.
He concluded by mentioning that "PlayStation has major plans for the PSVR 2 and I'm sure game devs will take advantage of its capabilities. So if you're passionate about VR, or are just plain curious about how far virtual reality has come, PSVR 2 is the best experience,"
"PlayStation has single-handedly made me excited about the future of games in VR, and I'll be slipping on the headset every time a new release comes out."