Season 1 of Gamr CODM Contest begins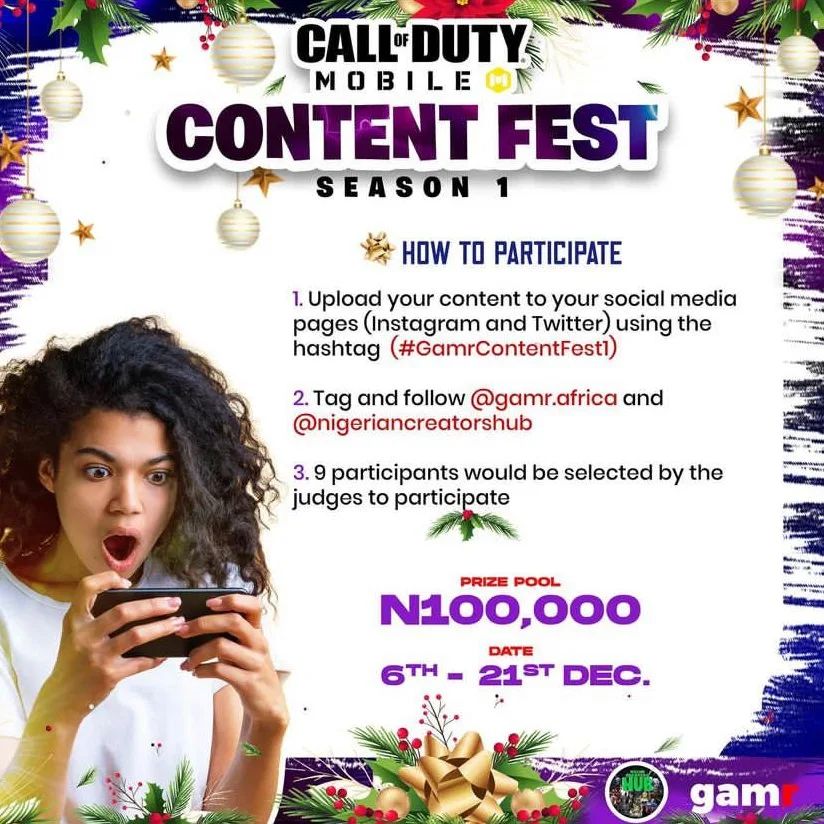 Gamr, a Nigerian esports organisation, along with the Nigerian Creators Hub, have announced the first edition of their Call of Duty: Mobile (CODM) Contest, which will take place from December 6 to 21.
Call of Duty: Mobile gamers will compete for a ₦100,000 prize pool in the event, which was announced on the various Gamr social media platforms. INDAHIZZE, Asta, and Nath, three of West African nation's top video game content creators, will serve as the competition's judges.
Gamr urged all Call of Duty gamers to join them on their quest to locate the finest in-game CODM footage in a statement released after the announcement. "Call of Duty gamers and content creators in the house, please join us as we search for the best in-game footage from the community."
Please follow the instructions below to take part in said quest and have a chance of winning a sizable portion of the ₦100,000 prize pool:
How to Participate
Upload your content to your social media pages (Twitter and Instagram) using the hashtag (#GamrContentFest1)
Tag and Follow @gamr.africa and @nigeriancreatorshub
9 participants would be selected by the judges to participate.
Gamr has been making a name for themselves this year by organising what many would consider the continent's biggest esports event, Gamr X, which brought together some of the best gamers from 10 African countries to do battle in five game titles for a prize pool of $15,000.
The African esports platform has also announced partnerships with the Nigeria University Games Association (NUGA) to host the 2022 International Day of University Sport (IDUS), Mettlestate to organise the CS:GO Intel Africa Masters tournament, and the Lagos State Esports Association (LSEA) to organise and monitor the Nigerian Qualifiers for the upcoming 14th World Esports Championships.