Africa Community eCup Championship Unveils Participating Nations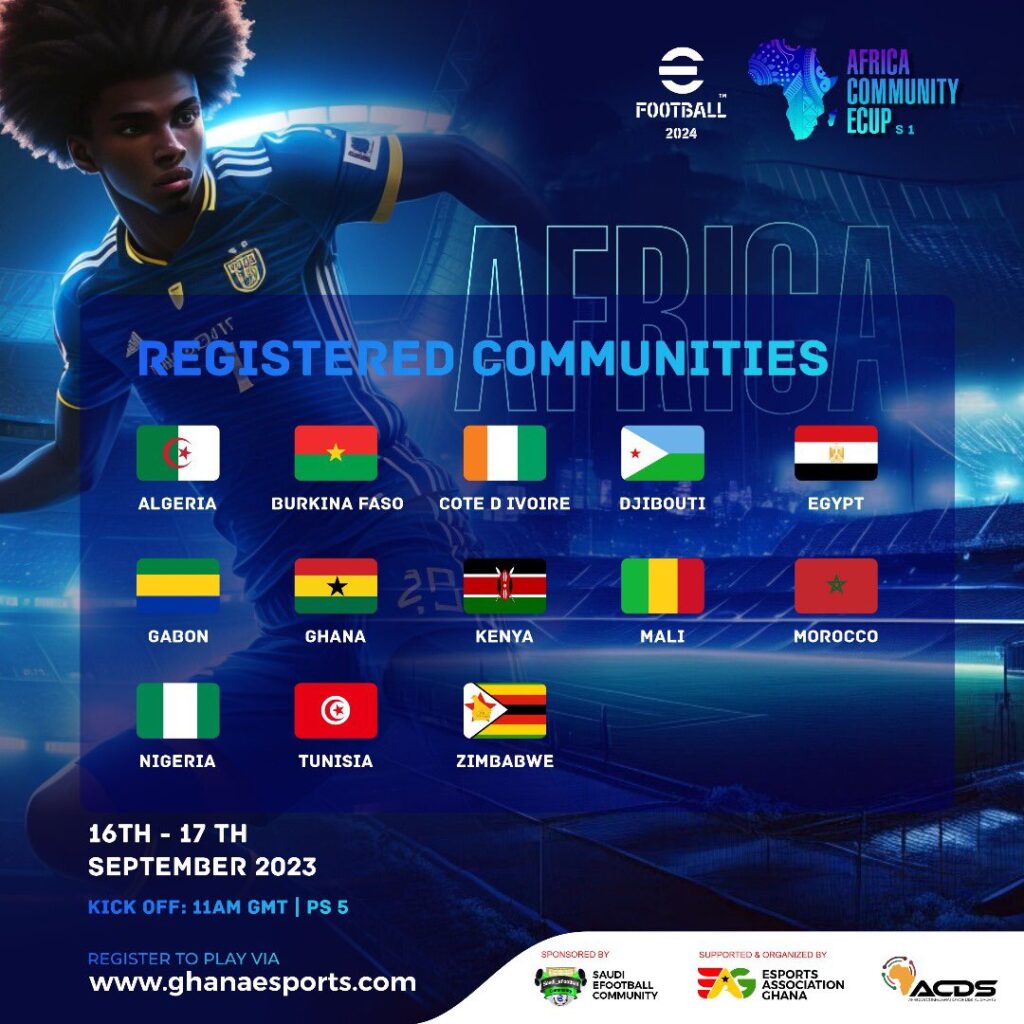 The Esports Association, Ghana (EAG) has officially revealed the line-up of nations ready to participate in the inaugural Africa Community eCup Championship. This exciting event, orchestrated by EAG and generously backed by the Saudi eFootball Community and the African Confederation of Digital Sports (ACDS), is poised to mark the release of Konami's much-anticipated eFootball 24.
Thirteen (13) African nations have boldly stepped up, ready to engage in fierce eFootball battles that will unfold from September 16 to 17. These nations include Algeria, Burkina Faso, Côte d'Ivoire, Djibouti, Egypt, Gabon, Ghana, Kenya, Mali, Morocco, Nigeria, Tunisia, and Zimbabwe.
The stakes are high as gamers from across these diverse African nations are set to vie for a prize pool of $210. Beyond the monetary rewards, the Africa Community eCup Championship aims to galvanise esports enthusiasts and foster growth in their respective communities.
One of the most remarkable aspects of this event is its inclusivity. Registration is not only open to professional gamers but is also entirely free of charge, ensuring that every aspiring eFootballer has a chance to shine on the continental stage. The registration period is currently underway and will conclude on September 14, offering a last-minute opportunity for talented gamers to seize their shot at glory.
To register for the Africa Community eCup Championship, simply visit the official EAG website at www.ghanaesports.com. Whether you're a seasoned professional or a rising star in the eFootball-verse, this championship promises an electrifying showcase of talent and a celebration of African esports unity.
As the gaming community eagerly awaits the kick-off of this historic event, all eyes are on where the next generation of African eFootball stars will emerge. Stay tuned for the action-packed showdown that is set to captivate audiences and elevate the status of esports across the continent.
With the Africa Community eCup Championship on the horizon, Africa's esports scene is primed for a game-changing revolution. Don't miss your chance to be a part of this epic journey. Register now and be a part of gaming history.