Canvic Records Takes On Alemannia Aachen in FIFA23 Showdown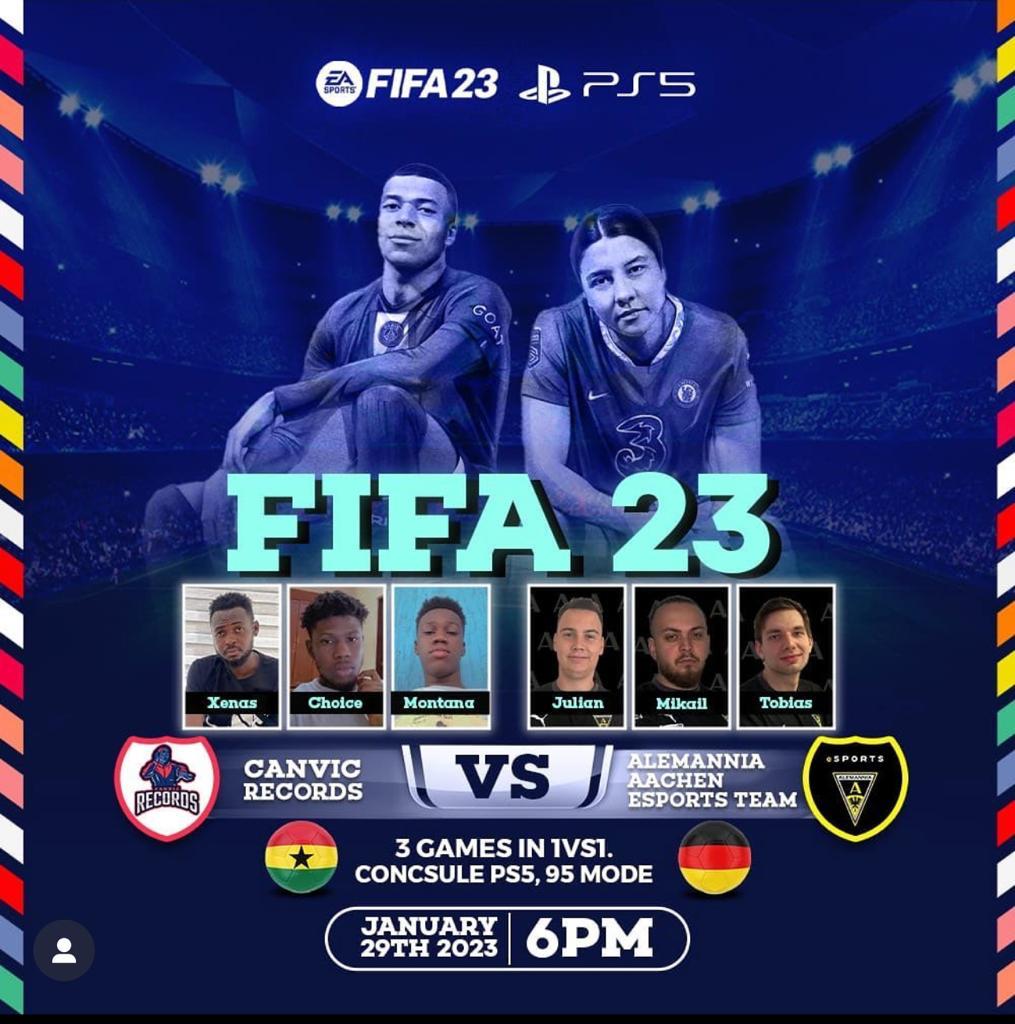 Esports competitions between African esports teams and their counterparts in Western countries can be a powerful tool for fostering unity, developing talents and promoting brands. By connecting African and Western gamers through esports tournaments, the sport can create a platform for cultural and tourism exchange and provide economic leverage for brands associated with the teams and events as many of these events are streamed or recorded.
In this spirit, Canvic Records Esports team from Ghana and Alemannia Aaachen Esports team from Germany will clash in a crucial FIFA23 showdown, on Sunday, January 29 at 6pm. The event will be streamed live on Canvic Records social media channels -@canvicrecords
The Ghanaian corner has a very experienced three-man team made up of Xenas, Choice and Montana. They will be facing Julian Mikail and Tobias, three prolific gamers based in Germany. The competition is a best of 3 games in 1 v 1 format, and will be played on the Playstation 5 Console in 95 Mode.
Speaking on the event, the Co-Founder of Esports Africa Tournament, Gabriel Sikanku urged all game enthusiasts from all over Africa to join the live event on Saturday, he said these competitions and tournaments are the backbone of a sustainable esports ecosystem in the African region.
He mentioned that "Esports competitions have the potential to bridge the gap between Africa and Western world and promote cross cultural relationships. With increasing number of people around the world having access to gaming consoles such as PS5 and Xbox, it is becoming easier for gamers in Africa to compete with their peers in Western countries,"
"Furthermore, improved internet bandwidth has made it possible for African gamers to participate in virtual reality gaming tournaments. This has enabled African gamers from Ghana, Kenya, Nigeria, etc., to compete with other players around the world."
He concluded that another exciting aspect of these competitions are the opportunity for gamers to experience different cultures when participating in international tournaments and teams travel to other countries. These events will also help promote gaming culture across Africa, as well as provide an avenue for African gamers to showcase their skills on a global stage.
Given that most African countries have limited access to high-speed devices and internet, virtual or online tournaments could be used to bring these two worlds closer together.
This would allow African gamers to compete with their Western counterparts without having to worry about bandwidth issues or latency issues that are often associated with online gaming. By leveraging modern technology, esports competitions between Africa and Western countries could become revolutionary.