Eyram Tawia to Speak at 2023 W Love Games Conference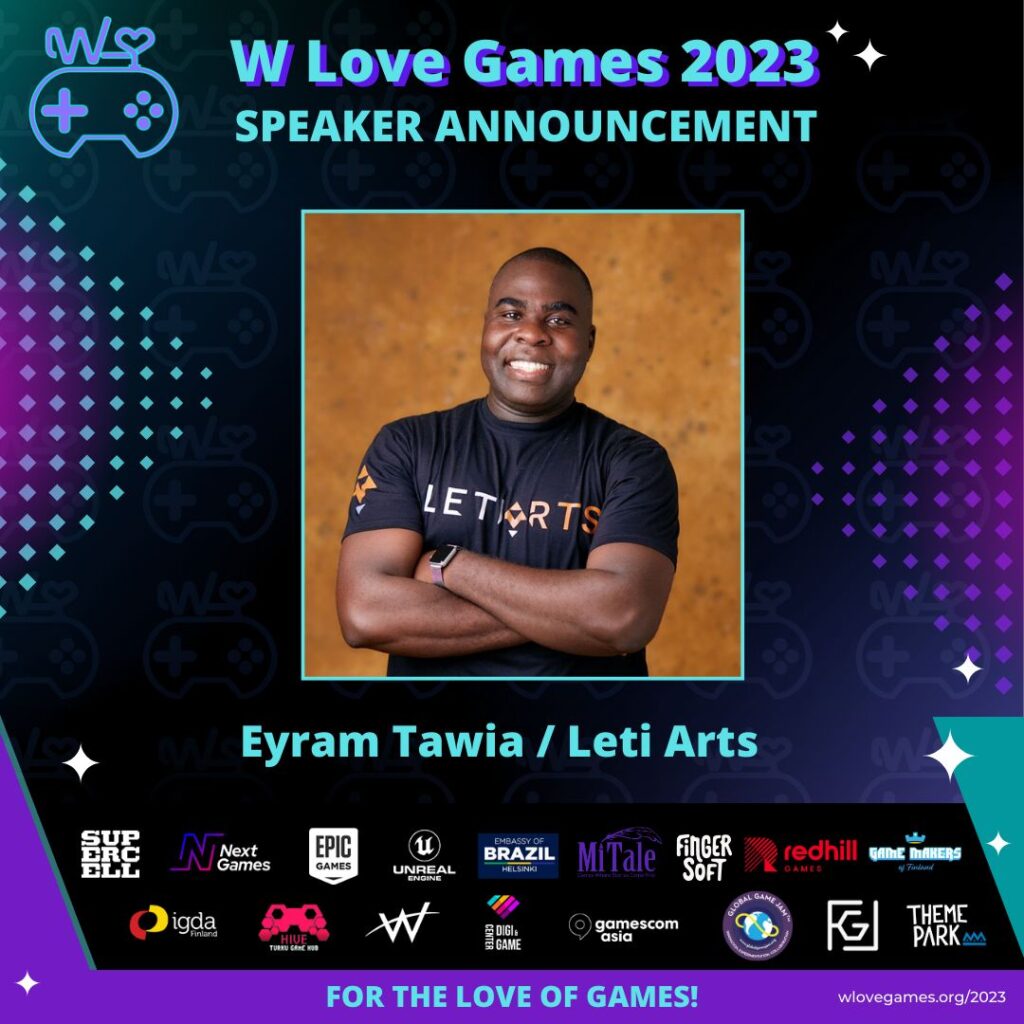 Eyram Tawia, the CEO and co-founder of Leti Arts, a Ghanaian game development company, has been announced as a speaker at the upcoming 2023 W Love Games Conference. Scheduled to take place in Helsinki, Finland, from October 12 to 13, this event is designed by developers for developers and promises to shine a spotlight on diversity and inclusion in the gaming world.
Eyram Tawia, often regarded as a trailblazer in the African gaming realm, has been making waves globally with his relentless commitment to reshaping the landscape of interactive entertainment. Under his leadership, Leti Arts has emerged as a pioneering force dedicated to creating immersive games and digital comics that celebrate the rich tapestry of African culture. It serves as a global platform for sharing Africa's vibrant stories, traditions, and experiences with the world.
Tawia's journey through the gaming industry has been nothing short of extraordinary, punctuated by a series of remarkable achievements and accolades. He has been a driving force in African video game development and has been recognised both within and beyond the industry for his outstanding contributions. His vision extends beyond the screen, as he is also a prolific author, having penned the illuminating book "Uncompromising Passion." This book serves as a chronicle of his extraordinary odyssey as an African video game developer, providing valuable insights into his unparalleled commitment and unwavering passion.
The inclusion of Eyram Tawia as a speaker at the 2023 W Love Games Conference is a testament to his global influence and Leti Arts' groundbreaking work. His talk promises to be a highlight of the event, where he will undoubtedly share his wisdom and experiences, shedding light on the crucial topics of diversity and inclusion within the gaming industry.
The W Love Games Conference has always been known for its dedication to promoting a more inclusive and diverse gaming world. By featuring Tawia as a speaker, the conference organisers are sending a powerful message about the importance of embracing different perspectives and cultures in the gaming community. Tawia's insights into African gaming and his journey as a developer will undoubtedly inspire and educate attendees, fostering a greater understanding of the global gaming landscape.
The 2023 W Love Games Conference in Helsinki is gearing up to be a landmark event in the gaming calendar, and Eyram Tawia's presence will undoubtedly elevate it to new heights. As attendees from around the world gather to explore the future of gaming, they can look forward to gaining a deeper understanding of diversity, inclusion, and the exciting developments happening within the African gaming industry, all thanks to the invaluable contributions of Eyram Tawia and Leti Arts.
Attendance at the W Love Games Conference is entirely free, and you can secure your spot by simply clicking on the registration link.