Tutaleni Ilonga to Attend SA Innovation Summit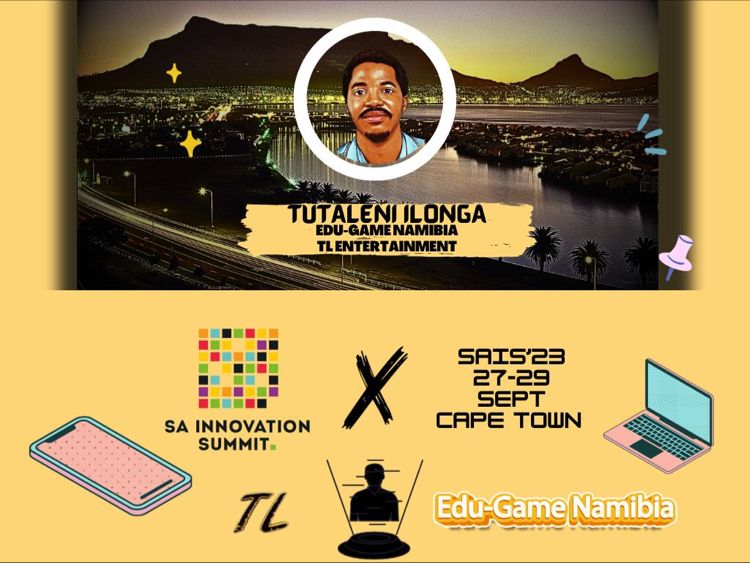 Tutaleni Ilonga, the founder of Tura Life Entertainment and co-founder of Edu-Game Namibia, has announced his participation in the upcoming SA Innovation Summit (SAIS). The event, which is a cornerstone of the South African innovation calendar, is set to take place from September 27 to 29, 2023, in Cape Town, South Africa.
SAIS is an annual gathering that serves as a pivotal platform for nurturing, developing, and showcasing innovation across the African continent. It plays a crucial role in facilitating innovation, thought leadership, and collaboration within the vibrant ecosystem it has fostered over the years.
Ilonga's announcement of his participation in the SA Innovation Summit underscores the event's growing significance in the global innovation landscape. He expressed his excitement, stating, "Excited to announce that I will be attending the SA Innovation Summit in Cape Town."
The SA Innovation Summit has evolved into a convergence point for various stakeholders in the innovation space, including corporations, inventors, entrepreneurs, academia, and policymakers. Its primary aim is to amplify South Africa's renowned competitive edge in innovation while inspiring sustained economic growth not only in the country but across the entire African continent.
One of the defining features of the SA Innovation Summit is its commitment to fostering collaboration. The event creates an environment where ideas can be exchanged, partnerships can be forged, and innovation can thrive. It embodies the spirit of innovation as a driving force behind economic development and societal progress.
Tutaleni Ilonga, a prominent figure in both the gaming and education sectors, has been instrumental in promoting innovation and education in Namibia. Through Tura Life Entertainment, he has explored innovative ways to engage audiences and promote and sustain game development in Namibia. Simultaneously, his role as co-founder of Edu-Game Namibia has placed him at the forefront of innovative educational solutions, using technology to transform learning in Namibia and beyond.
Ilonga's presence at the SA Innovation Summit is expected to bring a unique perspective to the event. His journey in fostering innovation in Namibia, particularly in the education sector, has garnered attention and respect within the African innovation community. Attendees can look forward to hearing insights and experiences that bridge the gap between entertainment, education, and innovation.
As the world continues to recognise Africa's growing role in the global innovation landscape, events like the SA Innovation Summit become instrumental in showcasing the continent's potential. Tutaleni Ilonga's participation reaffirms the summit's reputation as a vital platform for shaping the future of innovation in Africa.